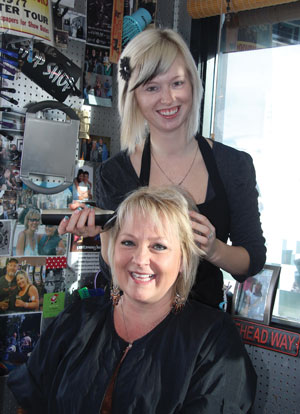 Details
Published on Saturday, 11 January 2014 11:49
Written by Pat Kolafa | © DrumhellerMail.com
After 10 years, Cuts for Cancer will be going out with a bang, and a little more baldness.
It is with a heavy heart that Cathy Morse of the Chop Shop is announcing that this year will be the final Cuts for Cancer she will be hosting at her shop. To thank all of those who made it successful, she too will be going under the razor to help those in need.
For the last 9 years, she has been able to avoid having her locks shaved, because of all the volunteers who have stepped up to donate their hair to raise funds for the Drumheller Area Health Foundation.
"The reason I am putting mine up is to thank all those who have stepped up over the years and supported the whole cause, it makes me pretty emotional still," she said.
For the last nine years Morse has staged the event. It was originally in memory of her mother who passed away from cancer, but as it grew, it was dedicated to many more in the community who were battling, or had battled cancer.
On top of that, many throughout the years have donated their hair to have wigs made for those who lost their hair because of treatments.
Funds from Cuts for Cancer have gone into numerous projects at the Drumheller Health Centre to enhance the lives of those who are battling cancer as well as their families. The support not only comes from Drumheller, but surrounding communities.
"It is unbelievable how it banded together all kinds of people who felt the same way," she said. "When you see people hurting, you take things into your own hands to support your local community and hospital."
Over its history, the event has raised in the area of $160,000, and has continued to grow each year. She hopes they can top $200,000 on this final outing and is looking for more volunteers to get in the barber chair for a good cause.
After years of talking people into the hot seat, Morse, now facing the prospect of her losing her own hair is undaunted.
"I've asked people not to laugh at me after they see me February 3," she chuckles. "The ladies who have gone under the razor, have all come out looking beautiful, you see their faces, not just their hair. I think it will be a liberating experience."
Cuts for Cancer will be held on February 3. Pledge sheets are available at the Chop Shop. Those wanting to participate don't have to shave their heads, the need only show up for a hair cut at the Chop Shop on that day.
"I am a little sad that this is the end for me but maybe someone can pick it up and continue on," said Morse.
So far, Sterling Martin, Jamie Worman, Joe Eccelston, Jeanette Giesbrecht and Patti Naegeli have entered. For every filled pledge sheet, participants will be entered for a chance to win two vacations in Las Vegas courtesy the Roadhouse Saloon.
Be sure to drop by and support the Chop Shop today!